Frequently Asked Questions
Will you make a custom order to my specs?
Yes. I didn't take custom orders for a long time, mostly because I was so busy with my guitar repair business that it was difficult to put the time and energy into a custom order that they require. I am now devoting more of my efforts to building guitars and would be happy to build one to your specs. I have relocated to my new shop facility in Idaho, and custom orders can be placed on the "buy" page or by contacting me directly through the "contact" page.
Why should I buy one of your guitars when so many 'relic' variety guitars are available?
Tone! My guitars don't just look vintage, they sound right too! The utmost care and attention to detail is given to the making of these guitars. I am one man making guitars one at a time. The other guys mass produce guitars that have 'the look,' but they miss the point because they don't go the extra mile with the sound and the details. The other guys offer premade pickups from various makers. I make my own pickups one at a time to vintage specs, using the best quality wire and magnets I can get. I make a real bone nut entirely by hand for each guitar. The other guys use ill-fitting prefabricated plastic or tusq nut blanks. (Tusq is plastic, if you ask me. If you are paying over a grand for a guitar that doesn't have a hand made bone nut then something is wrong.) I am very careful not to rust or age parts that are integral to the performance of the guitar. The way the other guys age their hardware, tuner failure and locked up saddles are the norm. I'm also picky about how it all fits together. I use what I think are the best parts, and the way it is all assembled has a lot to do with preserving that 'edge of feedback' tone that we all want. Check out the difference. My guitars are to a much higher standard.
What kind of pickups do you use?
My own pickups that I make and wind by hand to vintage specs using top quality, vintage correct, made in the USA magnet wire, flatwork, and magnets.  On my T-style guitars, I intentionally make them slightly microphonic for that 'verge of feedback' tone (like an old one!). I feed the wire on by hand unlike many new 'boutique' pickup makers that are actually using machines to guide the wire.
Why don't you use "brand X" pickups?
I make my own pickups, it's a big part of why my guitars sound good, and I strongly recommend that you stick with the pickups that I make. I use USA made enamel coated wire for T-style pickups and USA made Formvar wire for S-style pickups.  I use top quality, USA made, Alnico 5 sand cast magnets. If you just can't live without brand 'X' pickups in there, that's fine, just swap them out when you get the guitar. I won't mind.
Can I buy just your pickups?
YES! They are available by clicking the "pickups" link in the menu.
Do you cut your own necks and bodies out of raw wood?
I have before, and I sometimes do, but usually they are pre-cut and supplied to me from different suppliers. I get them in raw, roughed in, unfinished form, and I start from there. If I make them from scratch out of raw lumber they would be much more expensive and it would defeat the purpose of trying to make an affordable vintage replica. The necks are also usually already machine fretted which saves a lot of time and money too. I could fret them myself, I've done a zillion fret jobs, but it would add several hundred dollars to the price, and there would be no real difference in the end result. Yet again, it would defeat the purpose. I use what I think are the best woods and parts. The necks are only roughed in when I get them, I spend a lot of time shaping each neck to vintage specs, like rolling the fingerboard edges, softening the contours, adding a 'Tadeo Taper,' etc. The bodies have the right cosmetic details too, like the flattened jack area, and router dowel marks just like the old ones.
What are the different neck profiles and fret options that you use?
I offer four different neck profiles, each available with a 7.25″ radius or a 10″ radius,
-thin "C" shape .80" at 1st fret, .90" at 12th
-medium "C" .85" at 1st fret, .95" at 12th
-soft "V" contour .90" at 1st fret, .95" at 12th
-baseball bat huge 1″ all the way up and down
I offer three fret size options, but I can probably accommodate your special request if you don't like these options,
-vintage .080″x.040″
-tall .080″x.050″
-large .095″.050″
I spend a lot of time shaping them to be just how I want them. I cut out my own headstock shape. All fingerboard edges are rolled. I soften all the edges. I give the headstock a 'Tadeo Taper.' They always have vintage style single action truss rods, adjustable at the heel.  The necks are made from the highest quality woods, with no corners cut.
Why no Bigsbys?
In my opinion, they interfere with your sustain, tone, and tuning. Yes, they look cool and vibrato is a nice option. I'm sorry, but I won't install one on my end. I don't want the tuning and playability complaints that will inevitably follow despite my warnings.
How do you age the guitars?
People always ask me about this. Everybody uses different methods. I've tried them all and I use what works best for me. When aging metal, most people's methods prematurely rust moving parts and that's really not good. I have found methods that look better and keep the parts moving freely. That's all I really have to say about it. No harsh chemicals are used in the aging of the hardware. The aging process I use on the paint is just what works best for me. Sometimes I'll even use different methods from one guitar to the next.
How are they wired?
For T-style guitars I use about 4 different schematics. Sometimes I use the normal traditional 3 way 'Tele' wiring. Sometimes I do a 4 or 5 way switch with custom tones. Sometimes I use a special 3-way wiring to get better tone out of a 3 way switch. Rewiring the switch is a simple thing to do if you don't like how yours is wired. S-style guitars are typically wired with a standard 5-way switch. Check out the order page for more details.
Will you refinish my guitar?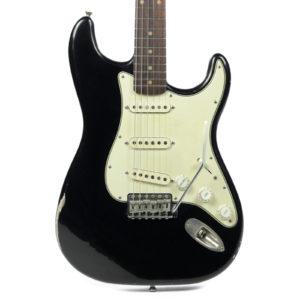 Probably, it depends on what it is and what you want done.   I do vintage restorations and I will refinish some modern guitars. Visit my repair and restoration page at ericdaw.com for more info.
Will you 'age' my new guitar?
It's probably not a good idea. If you have a modern guitar, chances are that the finish is thick poly and it is close to impossible to make that look right. Even if it's lacquer, the modern lacquer that most makers use has a plasticizer in it that keeps it from developing lacquer cracks. Also, the hardware is probably all chrome (instead of nickel) which won't work at all with my aging techniques. If you want to trick up a modern guitar by trying to pay someone like me to age it, or by doing it yourself, you are very likely just going to ruin an otherwise good guitar. Besides that, it still won't sound like an old one which is really the point anyway.
Will you sell a guitar to me directly?
Yes, I sell direct and through dealers.